This wiki covers the Kuma Kuma Kuma Bear series

and contains information regarding the characters and franchise.


News
Kuma? Bear? Yuna?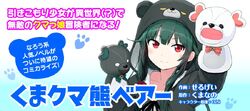 Kuma Kuma Kuma Bear Light Novel 10 has been released!
Head on over to SHUFU-TO-SEIKATSUSHA to see where you can a buy a copy!
Kuma Kuma Kuma Bear has also started a manga serialization! Currently Volume 1 of the manga has been released!
Announcement
Help Needed

This wiki is in need of contributors! Sign in or create an account to start editing. As this is a growing wiki there is plenty of missing information and character pages that need to be created. Please feel free to help out. If you need help or have questions please check the Wikia:Help:Contents or message the site administrators.
To Do List
Upload images related to Kuma Kuma Kuma Bear

Add pictures of the characters

Add more information to current character pages
Create character pages

Create item pages

Create location pages

Create new light novel pages

Create manga pages

Proofread and edit existing pages

==Author Activity Feed==
Visit Kumanano-sensei's MyPage to see newest activity feeds and updates!
The Author's original web novel is available on Syosetu

Random Quote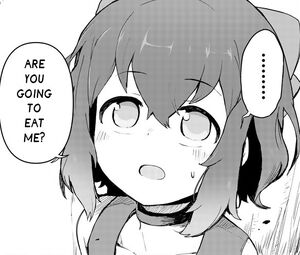 Fina: Th-thank you very much?
Yuna: Why a question?
Fina: Will you eat me?
Yuna: I won't eat you.
Fina: Are you Bear-san?
Want to see another quote? Try refreshing the page or purge!
Who is your favorite character in the series so far?
Community content is available under
CC-BY-SA
unless otherwise noted.